Visualizing Ukraine's Top Trading Partners and Products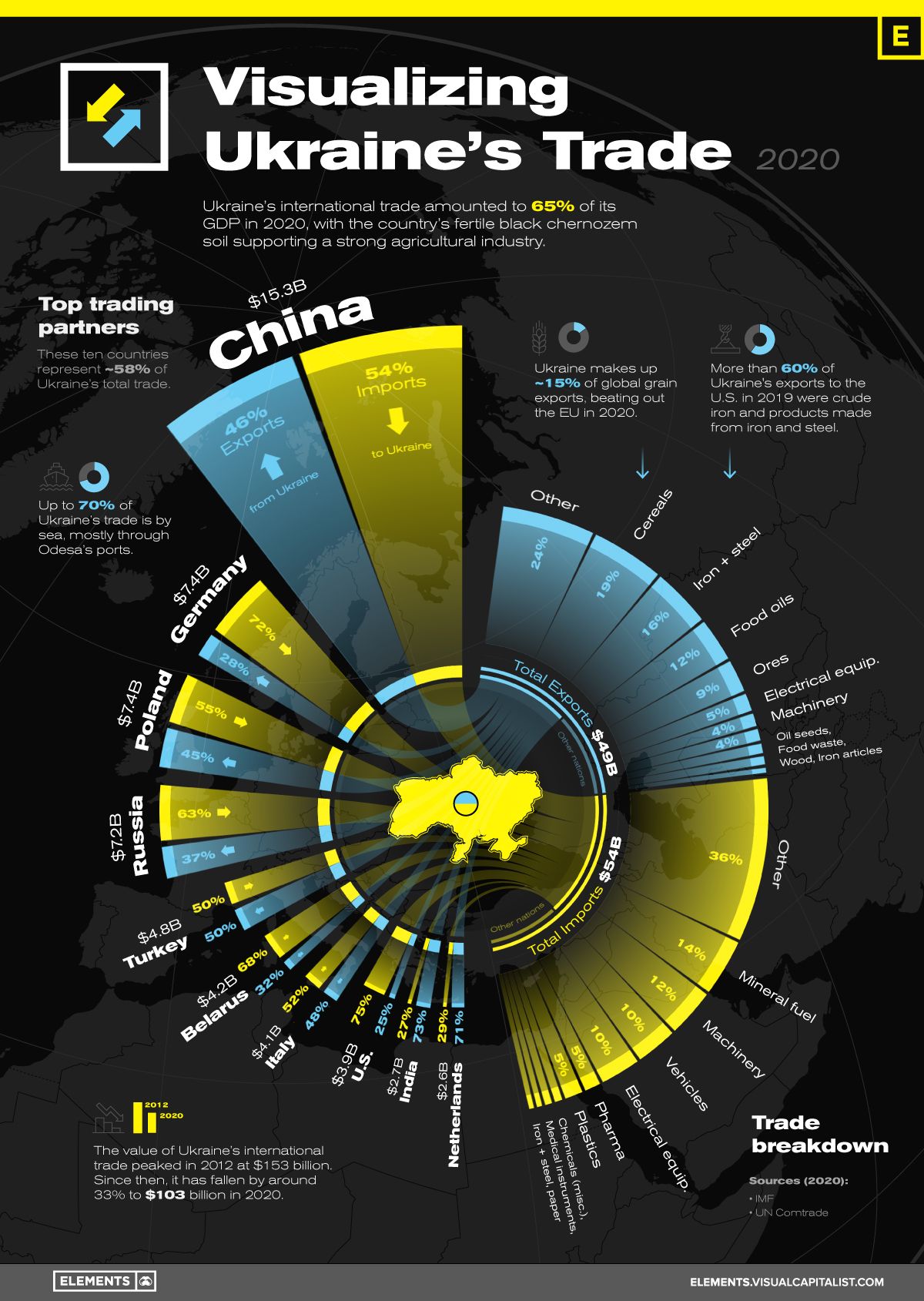 International trade was equal to 65% of Ukraine's GDP in 2020, totaling to $102.9 billion of goods exchanged with countries around the world.

In 2014, Russia's annexation of Crimea contributed to a 30% year-over-year drop in Ukraine's 2015 trade value ($75.6B). Now, Ukraine's international trade has been irreversibly disrupted since Russia's full-scale invasion on February 24th, 2022.

The current conflict continues to reshape geopolitical relations and international trade—and to give context to the situation, we've created this graphic using IMF and UN Comtrade data to showcase Ukraine's largest trading partners and goods traded in 2020.
Ukraine's Largest Trading Partners
Ukraine's largest trading partner in 2020 was China, with the value of trade between the two countries reaching $15.3 billion, more than double the value of any other trading partner.

Germany ($7.4B), Poland ($7.4B), and Russia ($7.2B) were Ukraine's next three largest trading partners, with the majority of Ukraine's trade with these countries being imports.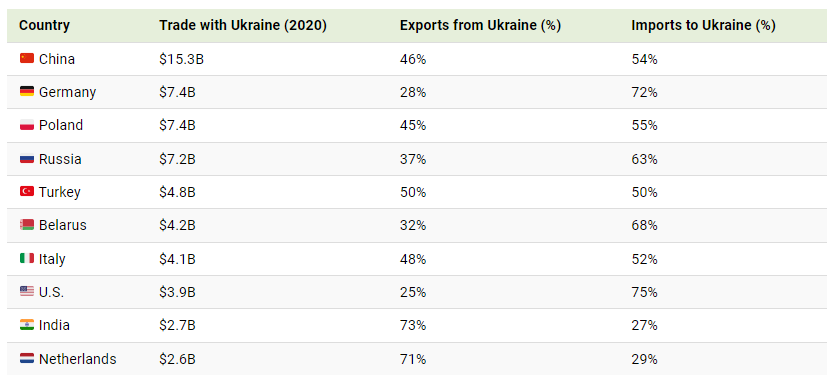 While most of Ukraine's trade with top partners is made up of imports, trade with both India and the Netherlands (Ukraine's ninth and tenth largest trading partners respectively) was more export driven, with exports holding a greater than 70% share of total trade value.
Ukraine's Top Exports and Imports
Ukraine's strong agricultural industry makes up a large share of the country's exports in the form of cereals, animal and vegetable oils, and seed oils. These products made up nearly 35% of Ukraine's exports in 2020, at a value of $17 billion collectively.

The other two cornerstones of Ukraine's industry and exports are iron ore and steel, along with refined electrical machinery, equipment, and other mechanical appliances. In 2020, exports of crude iron and steel along with their refined products made up $13 billion in value, making up more than a quarter of Ukraine's exports.

Ukraine's imports are primarily vehicles, machinery, and the fuels necessary to power these goods. With the country's energy consumption outpacing domestic energy production, mineral fuels and oils are Ukraine's top import in 2020 at $7.42 billion.

Primarily importing from Belarus, Russia, and Germany, Ukraine's need for energy fuels was greatly exacerbated by Russia's annexation of the Crimean peninsula, which held 80% of Ukraine's oil and natural gas deposits in the Black Sea.

Various kinds of machinery, vehicles, and electrical equipment are the next largest categories of goods imported, cumulatively making up 31% ($17.1B) of Ukraine's imports.
Ukraine's Shift Away from Russian Trade Dependence
Since its independence from the former USSR in 1991, Ukraine has steadily shifted towards Western trading partners, especially as conflicts with Russia escalated in the 2010s.

After years of negotiations, Ukraine's Association Agreement with the EU in 2014 facilitated free trade between EU nations and Ukraine, reducing the country's dependence on trade with Russia.

Ukraine is one of the most important economic centers of the former Soviet Union, and it had long been the breadbasket of the USSR thanks to its fertile chernozem soil and strong agricultural industry.

Trade value between Russia and Ukraine peaked in 2011 at $49.2 billion, and since then has fallen by 85% to $7.2 billion in 2020. During this time, European nations like Poland and Germany overtook Russia in terms of trade value with Ukraine, and in 2021 trade with the EU totaled to more than $58 billion.
War's Effect on Ukraine's Future Trading Partners
Russia's invasion of Ukraine is rapidly reshaping both countries' international relations and trading partners.

Four days into the recent conflict, Ukrainian President Zelenskyy filed for Ukraine's special admission into the EU, which would further strengthen Ukraine's trade with European Union members. Combining the likely breakdown of Ukrainian-Russian trade with China's lack of condemnation of Russia's actions, Ukraine's trade seems likely to continue shifting towards the European Union and its Western allies.

While not exactly international trade, on February 26th the U.S. committed an additional $350 million in support to Ukraine, with American financial security assistance to Ukraine totaling $1 billion over the past year. Alongside the U.S., the EU recently committed €500 million in financial support, and multiple EU and non-EU nations are providing Ukraine with military aid.

Although it's impossible to determine the results of this conflict and its effects on international trade, the countries supporting Ukraine's defense today are likely to become the Ukraine's top trading partners in the future.
---